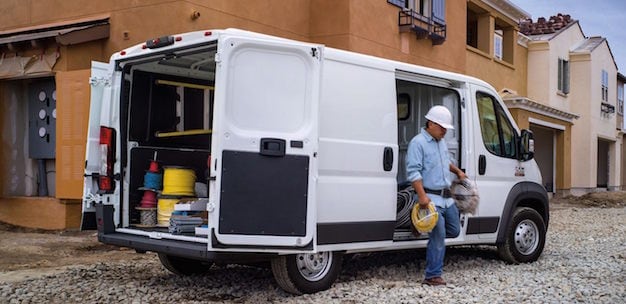 The RAM ProMaster has always been a popular model for commercial drivers near Sacramento. With its sharp turning radius and nimble handling, the newest generation of the 2019 ProMaster is sure to please those who need to get their jobs done quickly. When your job demands reliable and capable transportation, the new ProMaster is the best choice for its increased capable performance. Increases in both payload and towing capability are a game changer for those who need to transport large loads in record time.
Changes in the 2019 RAM ProMaster Sacramento Drivers Will Love
The 2019 ProMaster is poised to become the most popular commercial van this year with its added features. Coming soon to our RAM dealer near Sacramento, this model brings the renewed power and the smooth handling that businesses need when transporting precious cargo. The brand builds on its capability with an increased payload of 240 pounds for a total of 4,680 pounds which makes it the highest payload of any Class 2 cargo van on the market today. It also receives a 30 percent increase in towing capability, up to 6,800 pounds.
The new ProMaster also has a new look. The model shows the brand name across the front fascia with a classic RAM grille theme. The manufacturer has added three new models including a ProMaster 2500 cargo van of a 136-inch wheelbase and a low roof; a ProMaster 3500 cargo van with a 136-inch wheelbase and a low roof; and a ProMaster 3500 cargo van with a 136-inch wheelbase and a high roof. Other exterior upgrades include new optional interior LED lighting which is 20 times brighter and offers integrated motion sensors for added convenience. Inside, passengers have the new added benefit of RAM Telematics, which allow for tracking vehicle and driver behavior data to help save money on fuel, improve route efficiency and promote safe driving.
For more information on the added benefits and changes to the 2019 ProMaster, contact us at Hoblit Dodge! We would be happy to share more about what makes this new model a great option for tackling tough jobs.