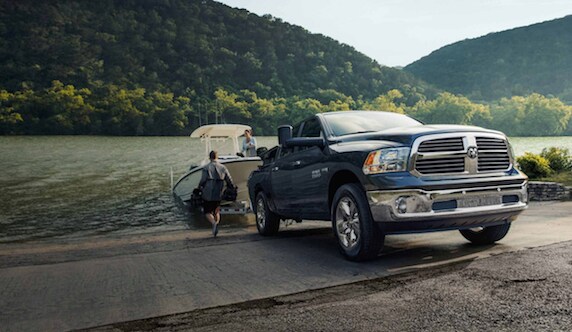 If you're preparing to drive with a trailer, there are certain tips to keep in mind for the safest and easiest driving experience. It's certainly not easy to take on an additional two thousand pounds or more, and expect to drive as you would without the extra weight. That's why our RAM dealership near Sacramento has just the guidelines you need, from properly loading your trailer to maneuvering turns, so that you won't feel unsure of yourself on the busy road.
Loading Your Trailer
When you're getting ready to hitch your trailer to your vehicle, you want to begin with arranging your cargo load so it is evenly distributed. Uneven trailer weight can lead to problems with steering, braking, and sway control, so we recommend having about 60 percent of your cargo weight loaded in the front half of the trailer and 40 percent in the rear half.
After the load has been properly balanced by weight in the trailer, it is very important that you secure it. Use nylon ropes or towing straps to tie everything down. You'll also need a vehicle that can properly tow all of this weight, or you risk possible dangerous driving situations. Many of our Sacramento area RAM models have best-in-class towing capacities that allow for some serious heavy-duty loading.
Driving Your RAM Truck With A Trailer
To properly navigate the road with an added cargo load, there are certain rules you should observe. If this is your first time driving with a trailer, we suggest you practice in an open area before hitting the road. Once you do hit the busy streets, drive slow; with a loaded trailer it takes more distance to accelerate and brake.
Handling your trailer can be difficult. If it begins to sway, simply take your foot off the gas; do not brake or speed up. When turning, it's important to swing wide and double check your mirrors for any possible obstructions you may have missed. When passing, remember that your acceleration will be slower and you'll need to allow for extra clearance room for the extended length of your trailer. Also remember to slow down when you're going downhill.
Parking can be a nightmare with any vehicle, but it can be especially tough with some extra length added to your carriage. To park with a trailer, look for a space where you can pull forward on a flat, level surface. Be sure to put on your parking brake, and use chock blocks on trailer wheels.
For more information on properly maneuvering your vehicle and trailer to your destination, contact us at Hoblit Dodge today! We proudly serve the Sacramento, Elk Grove, and Davis areas.