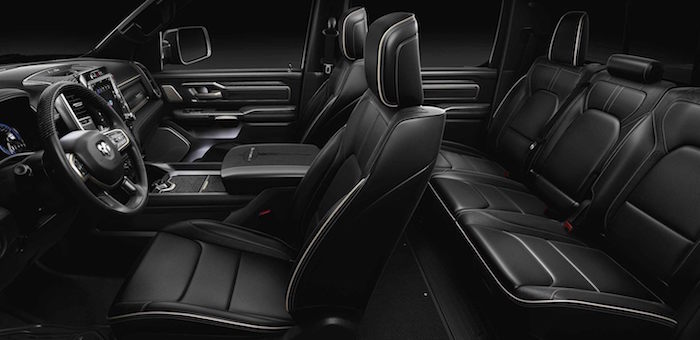 The latest generation of the RAM 1500 has a new look inside its tough exterior that Sacramento area drivers love. Experts in the industry have confirmed its attractive appeal, especially as it's one of Ward's 10 Best Interiors for 2018. While the RAM 1500 already has a reputation for being reliable and powerful, the newest generation of this model is an example of how RAM manufacturers keep pushing the envelope in vehicle convenience. When it comes to upholstery, the 2019 RAM 1500 offers a variety of different, comfortable options. If you're hoping for a RAM 1500 with leather interior, you can choose the Laramie for leather trim, or the Laramie Longhorn or the Limited for leather options.
Luxurious Leather Interior In the 2019 RAM 1500
Each RAM 1500 trim is designed to appeal to a variety of Sacramento area drivers. While some people prefer soft cloth, others prefer the classic, premium style of leather. On the Laramie option, you can choose between a mountain brown or black Bristol leather trim. As an alternative, you can also have leather on the RAM 1500 Laramie Longhorn, with mountain brown or black and cattle tan Natura Plus leather, or mountain brown Natura Plus Filigree leather. On the Limited trim, you have the choice of indigo and light beige or black Natura Plus leather. Both the Limited and Laramie Longhorn each feature 58 percent more leather than Ford or Chevy models.
Inside the 2019 RAM 1500, passengers will be happy to find comfort and convenience in every trim. The RAM 1500 interior has active noise cancellation so your ride will always be peaceful even with the model's powerful engine. Laying back and relaxing, passengers can enjoy a dual-pane panoramic sunroof that offers clear views of the world passing by and fresh air. Drivers also have the option of cushioned cloth or clean-cut vinyl for upholstery. Whatever RAM enthusiasts prefer in their RAM vehicles, the newest RAM 1500 has customizable materials but always the same premium comfort and style.
For more information on the interior of the 2019 RAM 1500, contact us at Hoblit Dodge.
Browse RAM 1500 Inventory