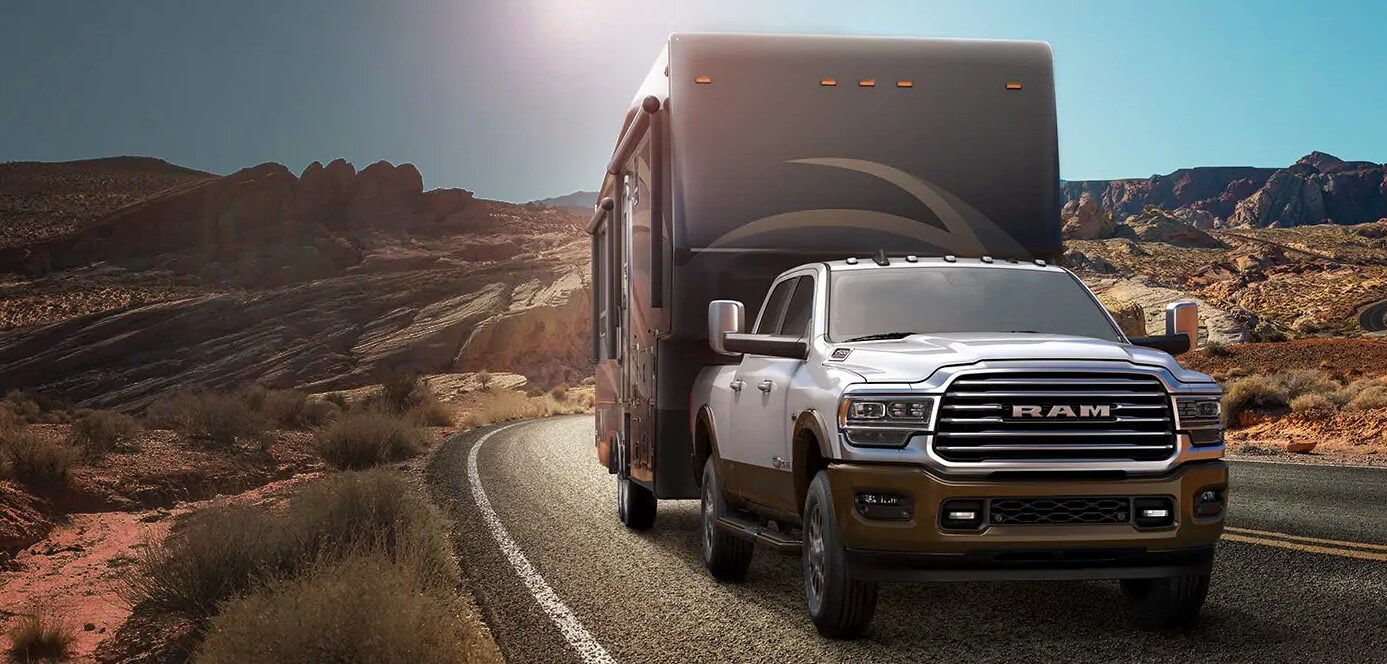 The 2019 RAM 2500 isn't some beginner-level truck: This is a serious machine, meant for getting things done. If you're shopping for a truck in this class, you're looking to load, unload, rough it a bit, and maybe have some towing capacity--or a whole lot of it.
2019 RAM 2500 Max Towing Capacity
When equipped with a 6.7L I6 Cummins Turbo Diesel engine, the 2019 RAM 2500 can tow between 14,000lbs. and a whopping 19,780 lbs. So while smaller pickups might be able to haul along a fishing boat or some canoes, RAM 2500 can pull a light yacht. Looking to set out into the wilderness for some camping and exploring? There's very few camper trailers out there too heavy for a properly-equipped RAM 1500.
Of course, not every RAM buyer will opt for the diesel engine. Hooked up with the lighter
6.4-Liter Heavy-Duty V8 HEMI® with MDS engine option, the RAM can still tow up to an impressive 16,000 lbs.
And the lightest available RAM 2500 engine, 5.7-Liter V8 HEMI®, will allow a maximum towing capacity between 6,820 lbs. and 13,910 lbs., depending on how the truck is otherwise equipped: whether the 5.7-Liter engine has variable-valve timing (VVT) or is set up as a compressed natural gas (CNG) engine; what the axle ratio you opt for is; whether it's a 4x4 or a 4x2, and other factors.
You have a lot of options when it comes to tailoring your 2019 RAM 2500 for your needs, and the possibilities are almost endless if you need to tow big loads. And despite the insane capabilities of the new RAM 2500, it still oozes with comfort and luxury in the cabin, with luxury features that closely mimic the layout of its best-in-class little brother, the RAM 1500.
If you've got a job to get done or a heavy load to haul, you need a 2019 RAM 2500. And when you buy a new truck, you want to buy from a knowledgeable team that stands behind its vehicles. At Hoblit Chrysler Jeep Dodge RAM, we're ready to help Sacramento and Elk Grove area drivers get acquainted with all the truck they'll ever need. Stop in for a test drive today!