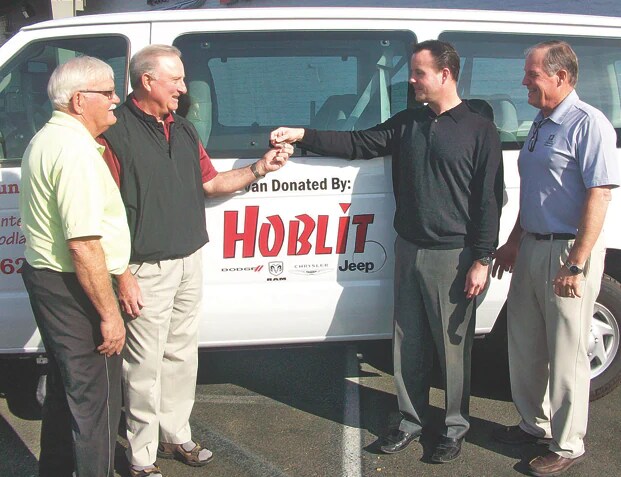 There's nothing that we enjoy more at our Sacramento area Jeep dealer than serving the surrounding communities. It's one thing to provide you with the best Chrysler, Dodge, Jeep and RAM models around, it means even more to become an important member of your community. That's why we're always looking for new ways to reach out and help.
Just take our latest work as an example, as Hoblit Dodge Chrysler Jeep RAM recently expanded its support for the Woodland Community Care Car with the donation of a new van. Dave and Chad Hoblit had partnered previously on a van upgrade and service contracts in becoming Care Car's biggest booster.
"We're proud to give back to the community," Chad Hoblit says. "It means a lot to be able to help these people to continue their daily activities. We're happy to give back and this is a good way to do it."
Dave Hoblit agrees. "It makes you feel good to know how much it means to these people, especially as they get older. They have dedicated their lives to the community but don't have families to help. It's nice to be able to provide transportation for them.
It warms our heart to make a difference in the Vacaville area RAM families' lives.
Community is Key
Care Car is a self-supporting volunteer organization that transports seniors 55-over anywhere within the city limits. Seniors wishing transportation can contact the Care Car office between 9 a.m. and 3 p.m. Monday through Friday. A donation of $2 is asked per round-trip. Two vans run from 8 a.m. to 3 p.m. Monday through Friday and a third van is used to bring those wishing to eat lunch at the Senior Center. All the drivers, helpers and staff personnel are volunteers.
We're always looking for new ways to get involved, so if you have any projects or programs that would interest our Chrysler, Dodge, Jeep, or RAM dealer serving Vacaville and Sacramento feel free to visit us. Pick up the phone and contact us at (530) 631-3297 with any questions.
Here at Hoblit, We do more than just focus on giving the best deals and service to our community.  We focus on what's most important to you.
From supporting kids during Rodeo season to contributing to the California Ag Museum, we support our community.